We all like to get a bit more for our money, having a free thing too sweetens the experience. With this in mind we are running a little offer here at Razzle Dazzle Pots. We are eleven years old this October. Some of you have been with us since the start and some are new to the pottery painting experience. We love you all!

Free stuff you say?
Over the Half Term period if you spend £20 in the studio on other pottery item someone gets to paint a pumpkin or candy skull hanger (worth £8) for free. We aren't even going to limit it to one per family so if you spend £40 you can paint two! Naturally it is whilst stocks last.
Is it a secret?
To qualify for this spooky deal, just quote 11th Birthday at the till and we will do the rest.
Will it be busy in Half Term?
We really do hope that it will be busy, in the past it has been and we can see no reason why this year will be different. This being the case we highly recommend that you direct yourselves over to the booking page and get your table reserved now. In the past we used to squeeze people in anywhere we could but with the changes to the table layouts and Covid restrictions we are now keeping bookings to their own tables and not mixing things up.
Christmas isn't far away
Why not get ahead of the game and get those personalised presents done in good time. We also have some Christmas stock out in the studio...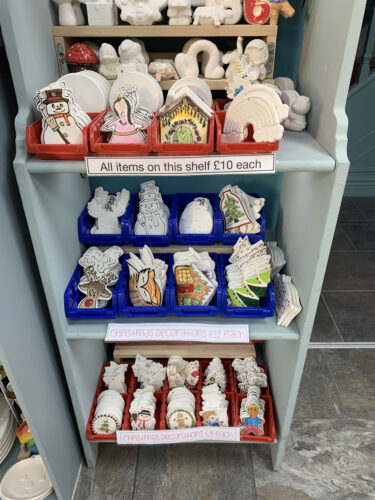 Now is the time to get those baby prints and keepsakes made. This last year has made it more challenging with lockdowns and social distancing, however, as we are now allowed once again to have one to one appointments we have decided to run a special offer from now until the end of May. For every £20 spent on hand or foot prints create an additional coaster worth £6 for free.
So what is stopping you from getting those keepsakes made?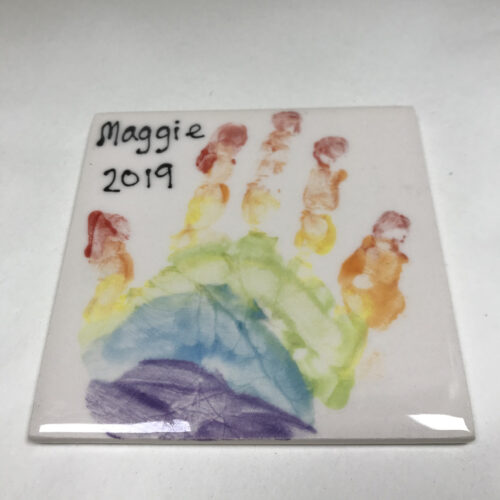 Glazed Baby Prints
The quickest and simplest baby print keepsake is one that is a print on an item of pottery. Any item of pottery can be used so long as it has a flat surface big enough for the intended print. The cost is just the cost of the item, nothing added on for us to help you.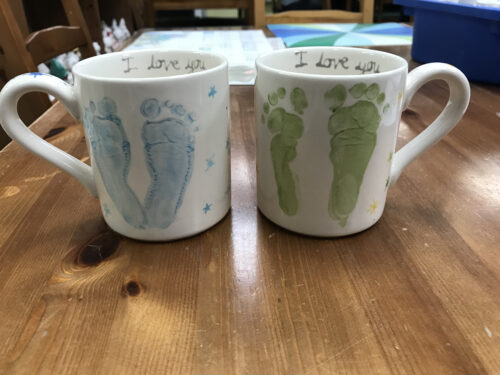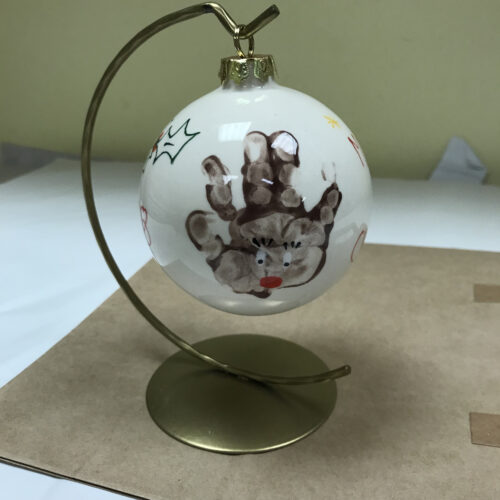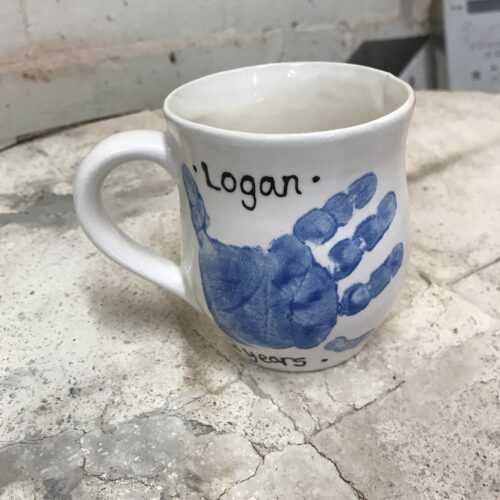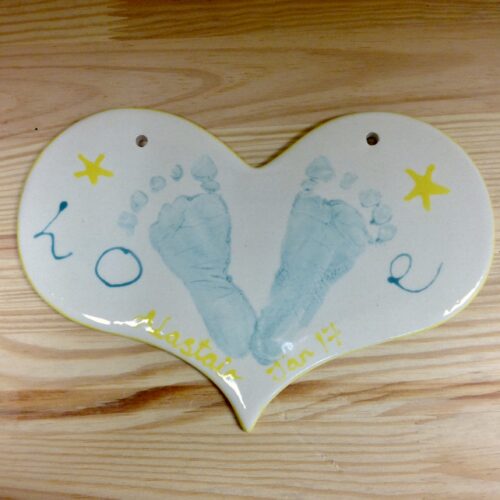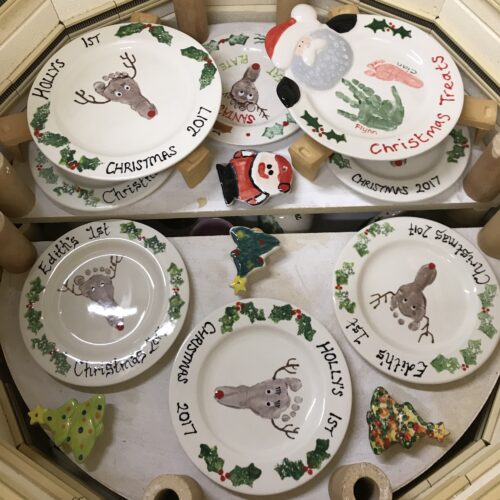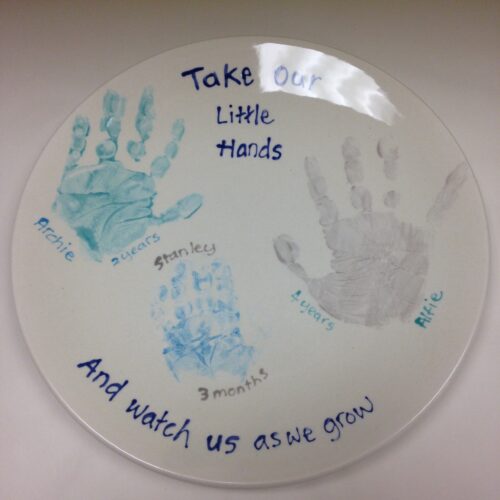 Baby Prints in Clay
If you prefer some texture to your baby print keepsake then an imprint in clay is for you. This version is usually easier to do when you have a small baby who likes to scrunch up their hand. Scrunched up hands make glazed prints more of a challenge where as clay ones are often more straight forward for us to do.
We have over ten years experience under our belts now however with all of these options there is always the chance that your baby will protest and sometimes they get upset at being made to do something they haven't done before! So prepare for a few tears!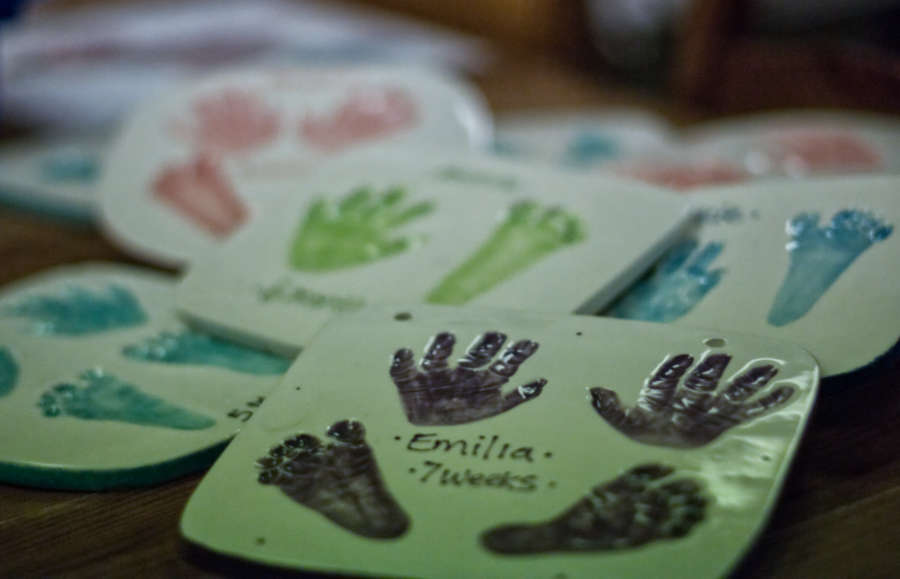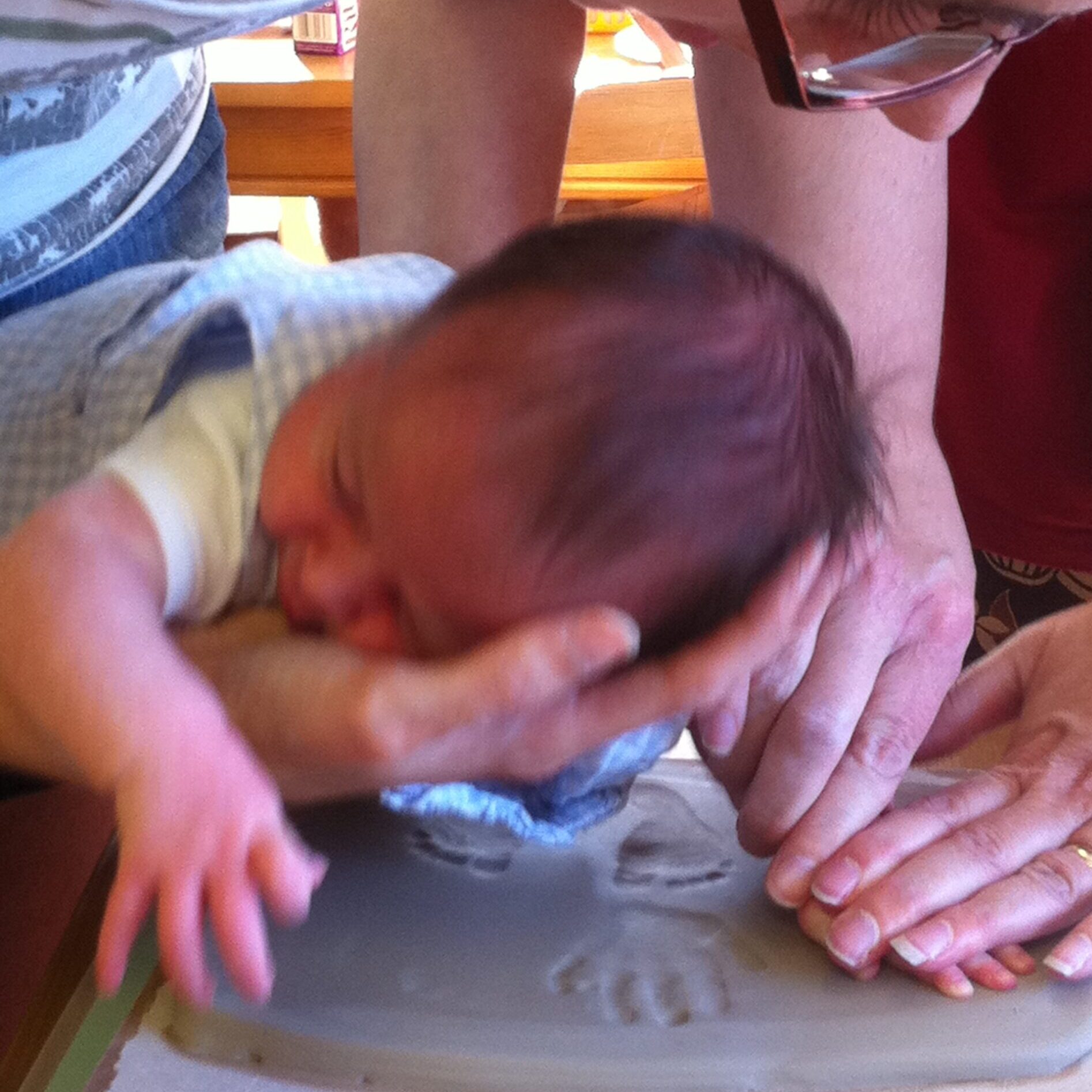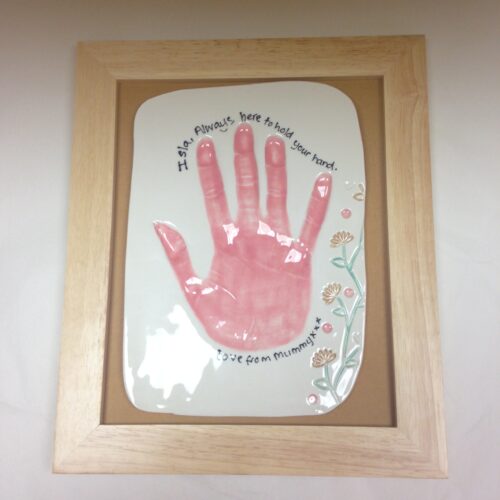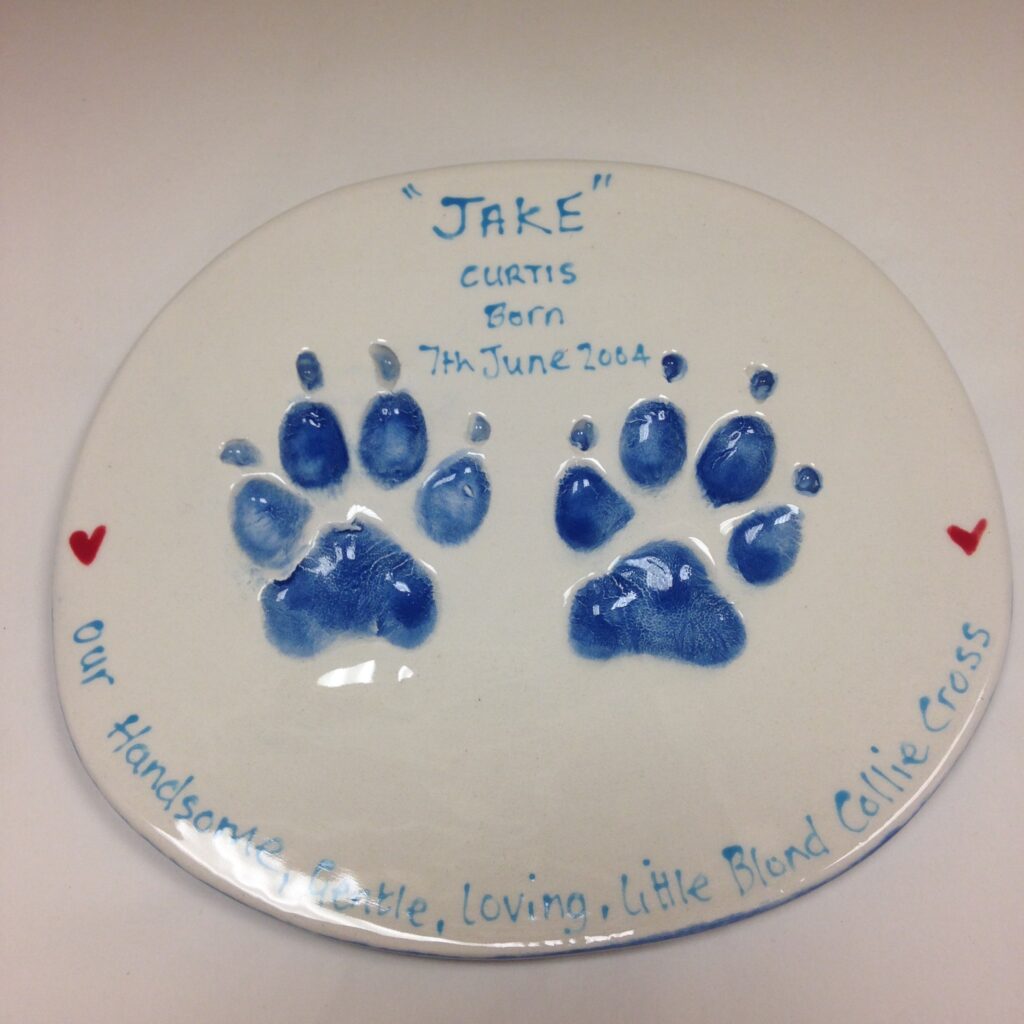 Silver imprint Jewellery
As well as ceramic keepsakes we also offer silver jewellery baby imprints. Prices start at around £65 for a pendant. We have lots of different shapes to choose from. If you would like to know more pop in to the studio and have a look at our brochure.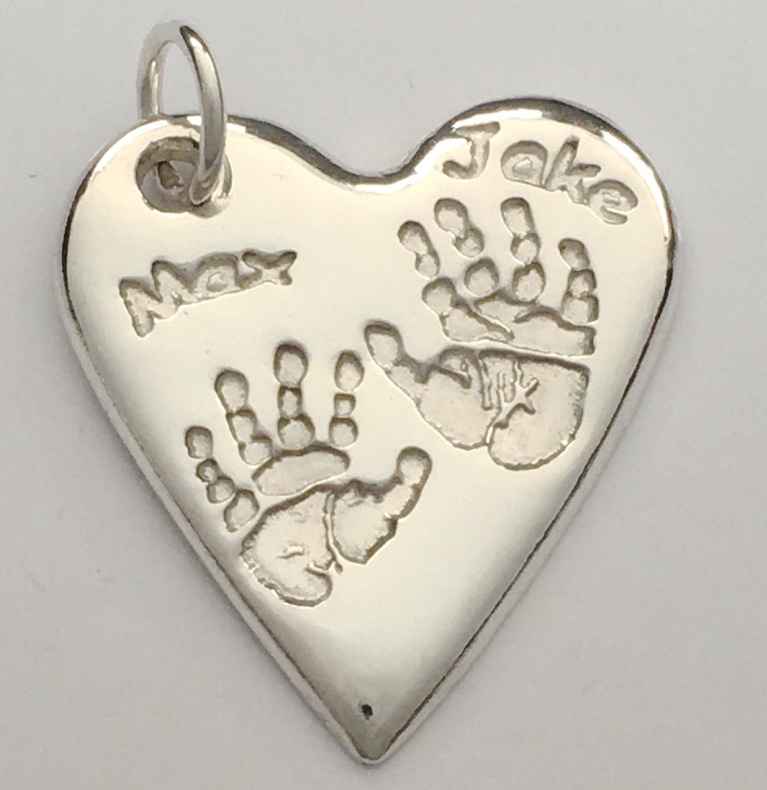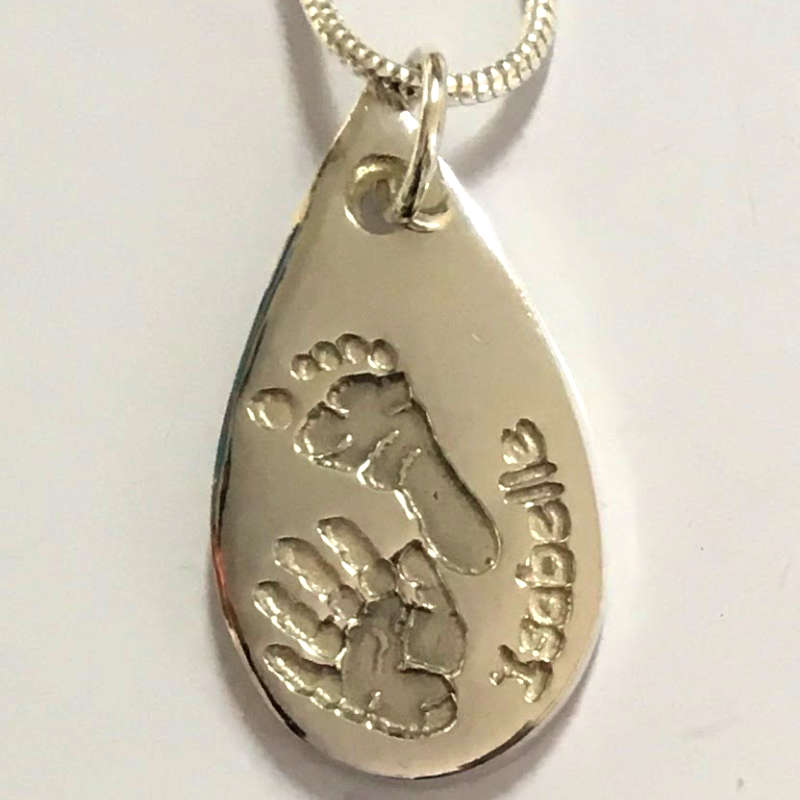 Welcome back to the studio
Putting 2020 behind us and moving into 2021 we are super happy to be welcoming you back in to the studio. Be that to make a baby print keepsake or come along to spend and hour or two getting creative with some pottery painting. Please help our little business move out of our COVID hibernation into a bustling and bright new year by sharing our social media posts, our emails and of course coming into paint with us.
Please book a session in advance where possible, however we know not everyone can plan ahead so we will accept walk-ins if we have space. For a one to one baby print session please choose a mid week session if possible. We are quieter then and there is less chance of interruption!
Collections
If you have some painted items to collect or take away items to return come along to the studio during opening hours and pick up / drop off your items asap. We keep your painted items for one year, after that we either use them as examples or dispose of them. This is something that we don't like doing so please come in and take your pottery home.
Hello! Do you remember us? It seems such a long time ago since we have seen your lovely faces and it is great to be able to say 'we are back!' Well, we will be back on the 13th April 2021 - we are just letting you know now so that you can make plans to visit us!
If you have seen our posts on social media you will know that we have been on a countdown now for the past couple of weeks. We are now in the final week and we need to ask a favour.
We need to feel the love! So we ask ever so nicely if you would share this email and our social media posts with everyone, in all the groups (don't annoy too many people though) and most of all please book to come in and paint with us.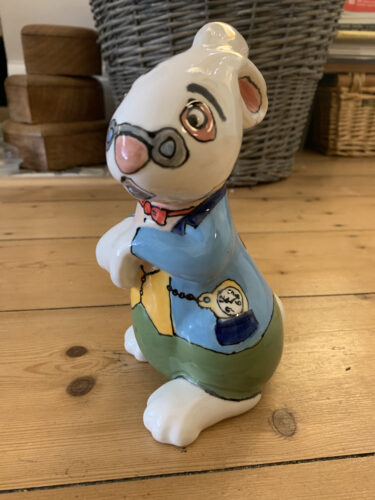 We are open again from Tuesday 13th April, you can follow the link to book a table now or call us (0115 905 6029) for same day reservations. (we won't be there to answer the phone till Tuesday so don't call just yet)
The Easter Holidays will still be in full swing and looking at the weather app it is looking like it will be pretty pants weather wise. So what are you waiting for?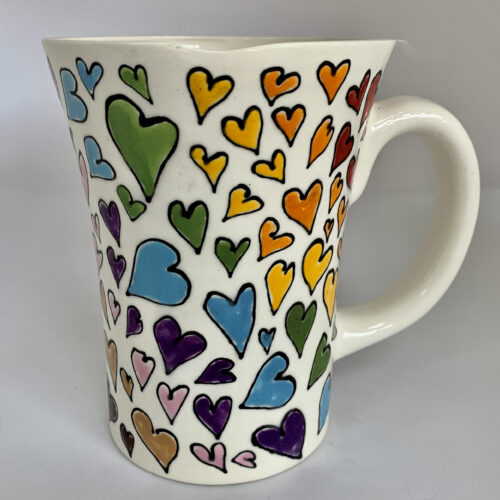 When we are back open there will still be Covid 19 restrictions in place.
We have been given the go ahead to open by Gedling Borough Council, with some conditions that we must to adhere to, otherwise we will get into trouble!
These are:
bookings need to be one family group
Tables spaced apart
No refreshments
Face masks on all the time
Keep up the social distancing and hand sanitiser use
Ring the door bell and we will let you in
Limited movement around the studio - stay seated as much as possible
Of course please stay at home if you are insolation or have had a positive test - not sure why we even need to say this one, by now this is just so ingrained in our psyche!
There have been a few changes to the layout of the studio, we have removed a few tables both downstairs and up so that there is more space. All the upstairs spaces are available to book, please say in the comment when booking or when you arrive if you have specifically chosen to be upstairs.
The most important thing for us is that we are back! And fingers crossed for no more lockdowns!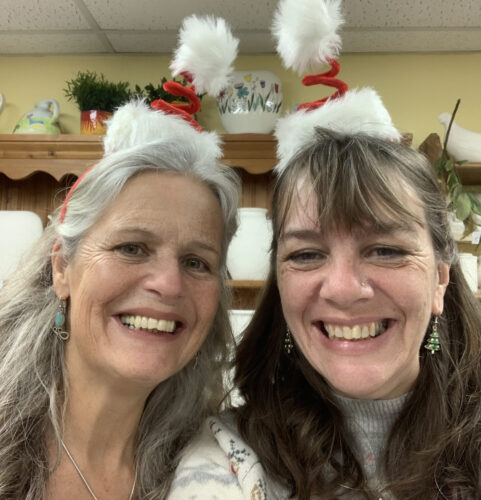 If you are getting confused by all the changes then you are not alone. Literally everyday we have some fresh Covid News and have to re-think all the plans that were made the day before. If nothing else our brains are being challenged daily to come up with new ways of operating our tiny business.
New Covid News!
We had planned to just operate on a take away basis during December. A phone call yesterday from Gedling Borough Council advising us that we are actually allowed to OPEN for customers in the studio! Well that was a surprise, especially after spending several days re-arranging the studio to look like a shop and changing the booking system to allow for take away browsing.
So in case you missed that I will say again - We are allowed to open, open for painters in the studio!!
The provisos are:
We must maintain the Covid 19 procedure to ensure a safe environment
We are not able to sell any food or drink.
Customers must also wear face masks the whole time in the studio.
Only one family group per table/booking - no mixing
Customers must stay seated and rely on table service.
Maintain social distancing.
The booking system will be back open today for you to book your sessions. At the moment we are remaining closed on Sunday - however if the tables get all booked up for Saturdays we may review the situation.
One to one bookings for baby prints will also stay. This will help us to give sufficient attention to each customer.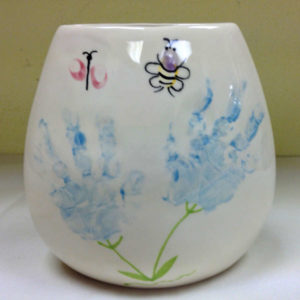 Take Away kits will also stay. You are very welcome to order a take away kit and paint at home.
One final word - Me Time is back on! Only 6 tables though and they are all upstairs so if you want to come book now.
Well Hello!
December 2020 is yet another challenge for us! Last week we found out that when the country exits the current lockdown on Wednesday 2nd, that Nottinghamshire is going in to Tier 3. Initially we had thought that this was okay, we had been able to open up for customers in the studio in October when we had been in Tier 3 before. However things are a bit stricter this time and alas we are not able to have painters sitting down in the studio.
Non Essential Shop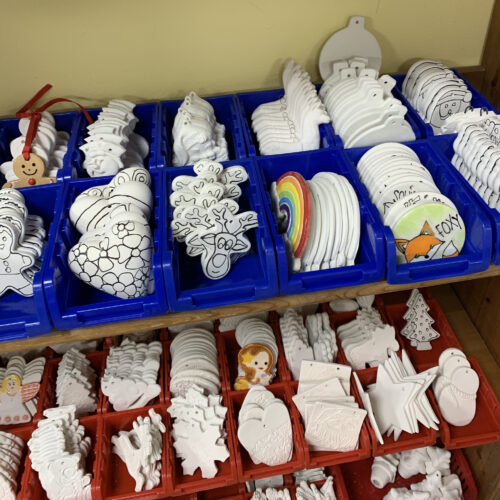 Normally November and December are super busy times for us with many people painting Christmas decorations and presents for special people. We hope that to some extent this can continue in December but rather than painting at the studio, you will paint at home instead.
During December we will be open on Fridays and Saturdays as a non essential shop. We have re arranged the downstairs space yet again. It is now opened out for customers to browse our shelves in a socially distanced way.
Take Away Kits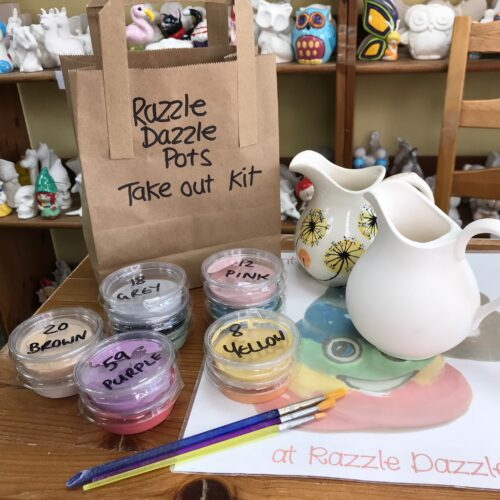 This month there are two ways to choose your take away items, either book a 15 minute session to come along to the studio to browse for your items or go to the Take Away Kit page and order online.
Included with your chosen items of pottery you will also get several pots of glaze and brushes if you need to borrow them. The pottery will need to be brought back to us to be fired. If you don't then it won't be super shiny or useable.
Hand / Foot Print Keepsakes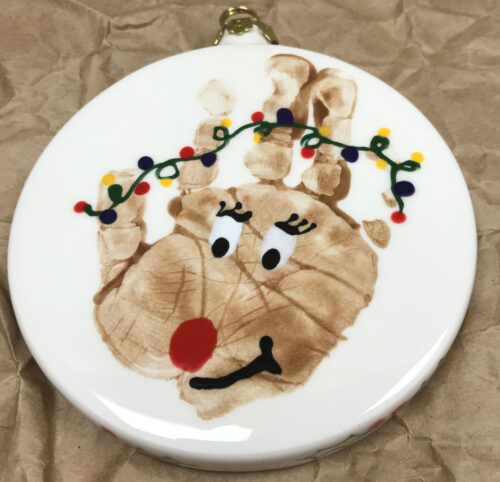 Another big part of this time of year is baby hand and foot prints on things like baubles, mugs and other decorative items. Babies aren't babies for long and we don't want you to miss out on capturing their tiny prints.
During December 2020 on Friday and Saturday mornings there are several one to one sessions available to book where we will help you take the various prints you need. We must stress though that this is not an opportunity for you to sit and paint. If you want to spend time personalising your items you can take them home to finish them off. If you just want some writing and a bit of holly we can do this for you.
We would like to thank you all in advance for continuing to support us and we hope to see you all very soon.
All our love and festive greetings
Jane & Nichola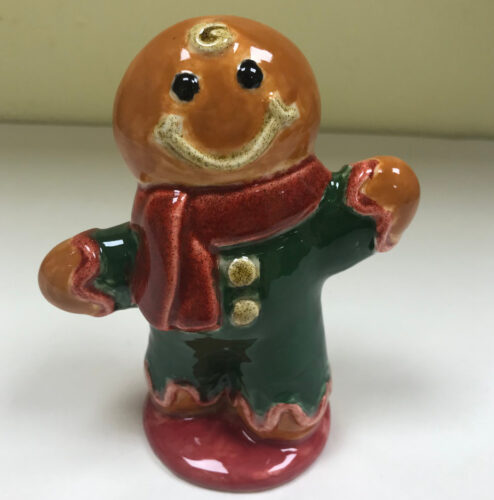 Whilst the studio has been closed we have been doing a bit of decorating and getting the place ready for you to come in and paint. Parts of downstairs, the actual stairs and the upstairs studios have had a make over and are looking gorgeous. We are feeling like we have been on an episode of Changing Rooms! Right from the beginning of lockdown we had an idea that once it was all over the way we do things are going to have to change. To start with downstairs we have moved one table out, this means there is more room to move around and also that you can be seated a little further apart. To compensate we will be using upstairs a lot more.
With this is in mind we have made better use of the upstairs rooms. We now have three rooms upstairs that will be available for painters.
The party room which many of you will already be familiar with has had a coat or two of varnish on the floor and a little bit of paint here and there. The tables are laid out for painters and can easily be moved around for when we can have groups in again.
The room across from the party room - Studio 2, was at one time used for doing clay work but since the wheels died it became a bit of a store room / overflow studio. This has been cleared of all storage and had a makeover. We think it is looking lovely. In there is a big table for eight and a regular table that seats four.
Our new room, which once was office to Jane's husband, Paul, is now our Studio 1 - Paul has moved office and we have given it a whole new look. Here you will find a small table for two and a large table for seven. It also has a sofa!
Once we are able to socialise with different people the two smaller rooms will be available to book for small parties.