Have you seen these gorgeous silver keepsake items? Perhaps a friend or family member has one and you want one for yourself! Well! look no further because we can supply a massive selection of silver items. Have a look at our gallery and see a selection of the choice available.
We also have the option of leather keyring.
How does it work?
We need a hand or foot print (or paw if you want to get your pet's imprint done). Ideally this is done by us in the studio using our special reactive paper. However, it doesn't have to be, prints for silver jewellery can be taken from virtually any media. Bring them along or email them to us and we will let you know if it can be used.
Once we have this we will send it off to our silver producer who will do some magical jiggery pokery and make a tiny stamp of the print, prepare the silver and make your chosen item. This also gets fired (but not so hot and for so long as the pottery), made smooth and shiny and returned to us for you to wear with pride.
Prices start at around £70. If you are interested in finding out more then please call in and ask to view our brochure and the prices for individual items.
How long will it take to make?
The turnaround time for the silver keepsake jewellery is usually one week, the same as the pottery however when it gets to busy times then please allow a little longer.
Just a really quick post about the rule of 6 and general guidelines for booking and how they effect your visit to us here at Razzle Dazzle Pots.
Things to know
Since we re-opened in July we implemented a computerised system for recording your orders, this is purely for our own use and has helped us to be more efficient when it comes to you coming to collect. No more lost receipts!
If there ever becomes a reason for the powers that be to contact us about track and trace then we will of course contact you first to check that you are okay with us sharing your details. We will also know the time you come in, which we consider reduces the need for unnecessary isolation.
Every table is sanitised after you leave, along with the bottles, brushes, pallets etc.
Please wear a face mask as much as possible, when you arrive or are moving around the studio. Then at the table only wear one if you want to. Encourage young people to stay seated as much as possible and if everyone could try to reduce the amount of close contact with other people.
The rule of 6 is confusing to say the least. In simple terms it means that we should allocate no more than six people to a table, so if your group is more than six (including non painters) then please make two separate bookings and if you mention it when booking, we will make sure that the tables are in the same room and as close to each other as possible whilst still socially distancing.
We do ask though that you encourage your group especially your young people to stay seated as much as possible.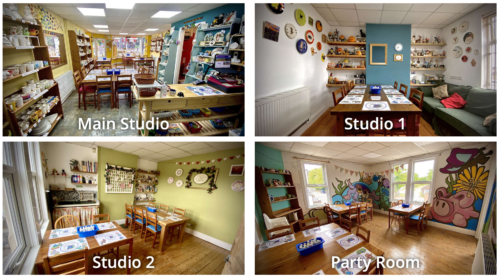 October Half Term
We hope that there will not be any additional lockdown rules in place in Nottingham over the two week half term period. However if there are we will be offering take away kits. October half term is one of the two yearly events that carries us through the quiet times.
Your patronage during these times is what ensures we stay in business.
I am not going to beat about the bush, times are hard for all businesses and our little one is no different so you supporting us by coming in to the studio or having a take away kit helps us stay open and we thank you all very much and apologise for all of the draconian rules that we simply have no choice but to follow if we wish to stay open.
See you again soon.
Jane & Nichola
Who doesn't love a mermaid? Well plenty I suppose and if you don't, then skip to the next story. So, hopefully I am now just talking to those of you who do love these fantasy creatures.
Fortunately for you (and us) we have quite few of each of them for you to paint here at Razzle Dazzle Pots.
Our selection
Famous mermaids, hmm, how many can we draw inspiration from? There is the Little Mermaid from either Hans Christian Anderson or Disney, those feisty ones in the lake in Harry Potter and there were some in Peter Pan too. We find that the painters of mermaids at our studio are mostly girls, mostly under twelve and they for some reason paint the tails turquoise and the hair red! I have searched our photos though and have found a few that buck the trend!
Whilst writing this I discovered that a group of Mermaids is called a gossip. There you go, a bit of useless information for you that may one day come in handy on a quiz night! The photo above shows a Gossip of mermaids that we almost always have in stock. They are very popular and can be found on our £16 shelf.
This lovely Mermaid is a money bank, doesn't she look great with her blue lips and her pink hair? see, not red!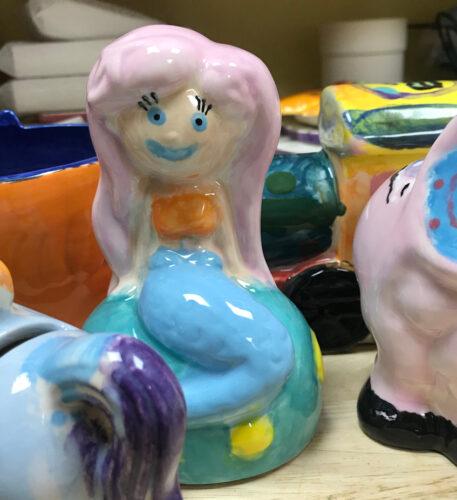 These fabulous versions are on our £18 shelf.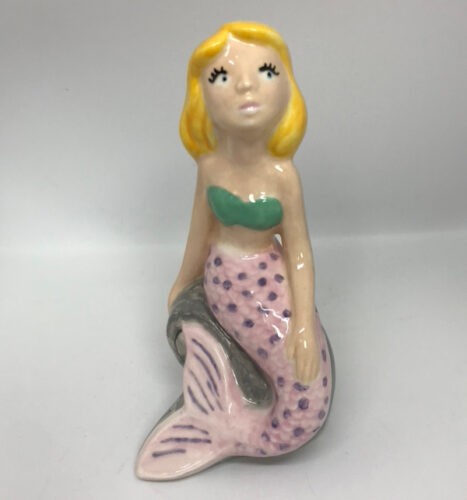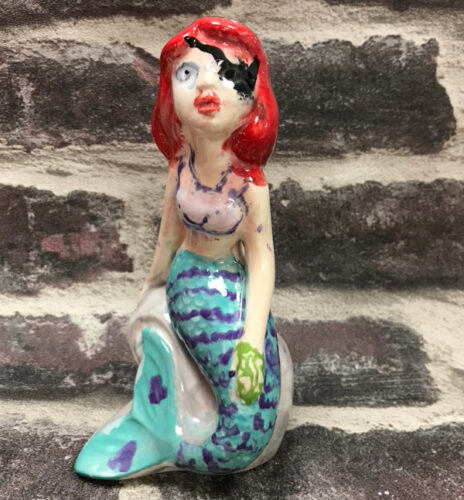 We have a new mermaid inspired item too, this is a lovely ring dish..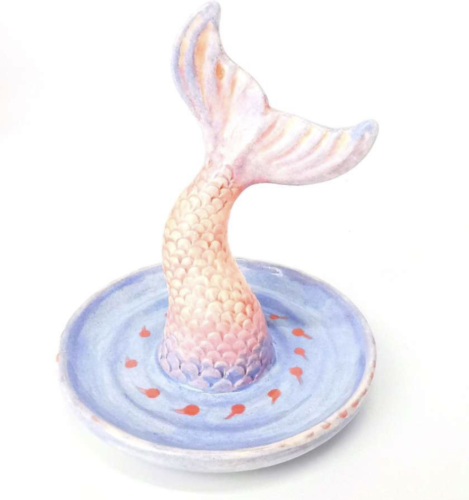 Remember if you would like to come along to paint please book your table. This can be done by following the link below or going to our website. If you don't book but just turn up you may be asked to wait for a table, or more likely just to respect others in the studio and wait for them to sit before you choose.
Who doesn't love an alliteration? We do and we love personalised pumpkins here at Razzle Dazzle Pots your friendly neighbourhood pottery painting studio.
It is never too early to plan your pottery painting choices especially if you would like us to make you your very own personalised Pumpkin. We offer this on our large pumpkins - the ones that are normally £30 - either with your own design face, or name cut in. The cost for a personalised pumpkin is £35 - £40 depending on the complexity of the design.
How is it done?
The cutting is done before the pottery is bisque fired. They are made to order to your agreed specification and will be ready for you to decorate about 2 weeks later. So if you would like one ready for Halloween you need to get your orders in before the first week of October.
As mentioned already we will need to check that the design is suitable to be cut into clay, so there may need to be some adjustments made to your design. If you look at the faces we have already done you can get an idea of the limitations.
To order just contact us at the studio, either pop into see us or ring on 0115 905 6029. Payment for the personalised ones will be required upon order and we can take payment over the phone.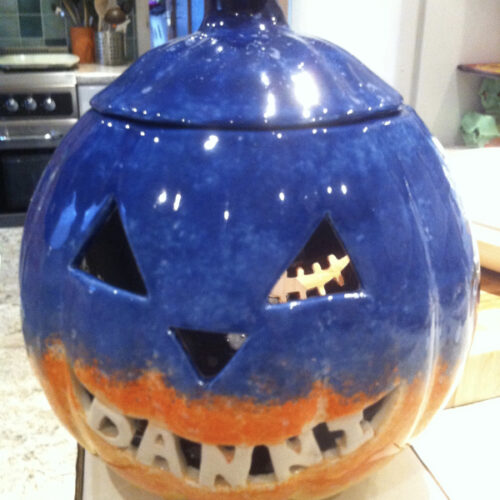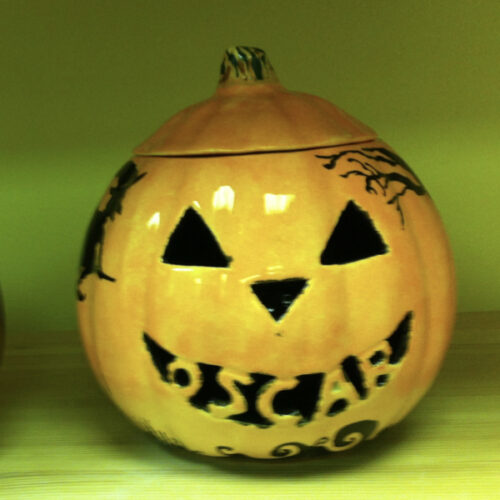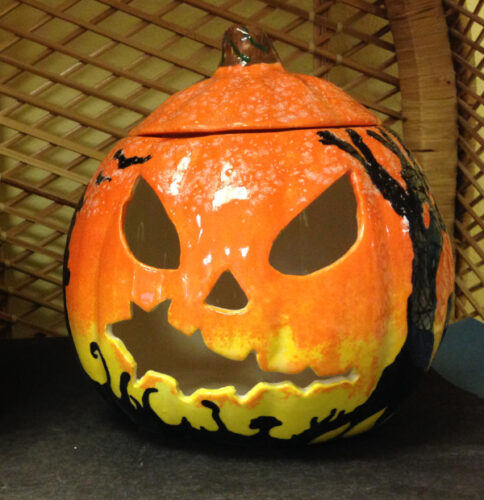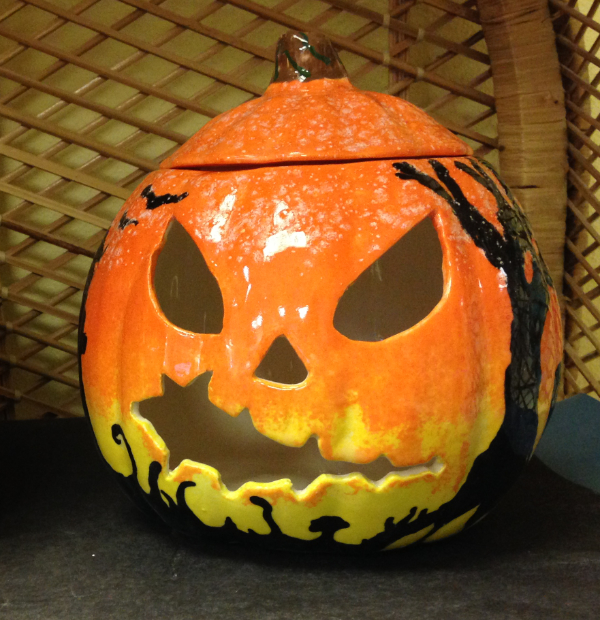 Remember to book before you come and to wear a face mask when moving around in the studio. Once you are sitting at the table you do not have to wear it. We also ask that if when you arrive others are choosing their pottery that you sit at your allocated table and wait until they are seated again.
If you have any concerns about social distancing in the studio please choose a table upstairs, this will reduce contact with other people.
Yes! Finally our Me Time Evenings are back here at Razzle Dazzle Pots. We have been asked quite a few times now over the past few weeks about when we will be getting our adult only evening sessions running again. For the first couple they will be on the last Thursday of the month - which means you need to mark down Thursday 24th September in your diary for the first one.
Other dates available so far are 29 Oct, 19 Nov and 10 Dec and you can book any of them now just go to the date you want.
Will things be different now?
However much we don't like or don't agree with all of the Covid restrictions that are currently in place we do need to be making the effort to stick to them as much as we can. So with this in mind you will need to book a table, wear a mask when you come (but not when sitting down) and we do take peoples contact details as part of the booking process so that bit is covered. If you are more concerned about mixing but would still like to come then you can choose a table upstairs. That way you can be in your own room with limited contact with others.
New to Me Time..
If you have not been to one of our Me Time Evenings but are wondering what they are all about, well here is the basic run down. Once a month (generally) we run an evening session of pottery painting, or sometimes hand building with clay and these sessions are for grown ups, no kids allowed. You can bring your own alcohol and snacks but remember we do serve the most delicious hot chocolates...
The cost depends on the pottery you choose to paint and the session runs from 6:30 - 9:30pm. You do NOT have to arrive exactly at 6.30 - this is just the general time the session starts. But we do ask that you are on your way home by 9.30pm!
If you would like to sit upstairs please either book the table you want or write it in the note when booking. Other wise we will allocate tables depending on numbers.
If you are interested in having a go at hand building with clay - please mention this in the note section on the booking. We DO NOT have a pottery wheel and it would be more about making decorations, wall hangings, pinch or coil pots. We can give you a basic introduction but it is not a taught / guided session but more like play with clay. The cost for this is £15 each. There will be additional costs if you wish to come back and have your items glazed. (painted, glazed and fired)
On an evening you can ask for all the help you need, we can show you how to use the carbon paper, the writers and any manner of special tools. We have a couple of videos on the website of these if you need a sneak preview.
Check out a few fabulous items painted by some of our talented customers.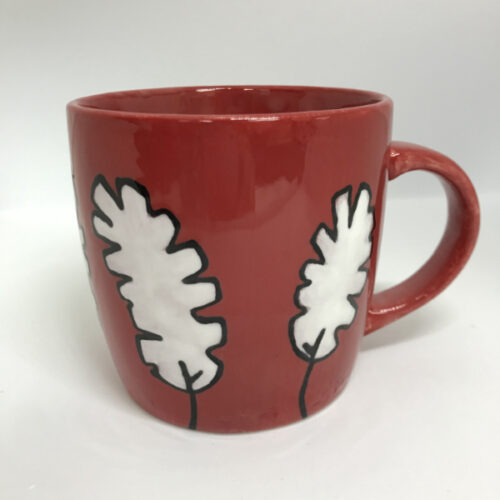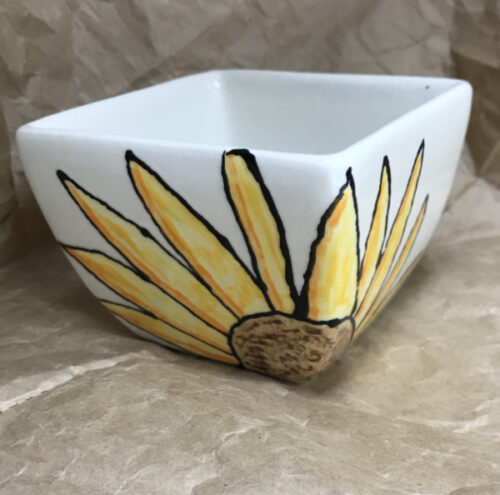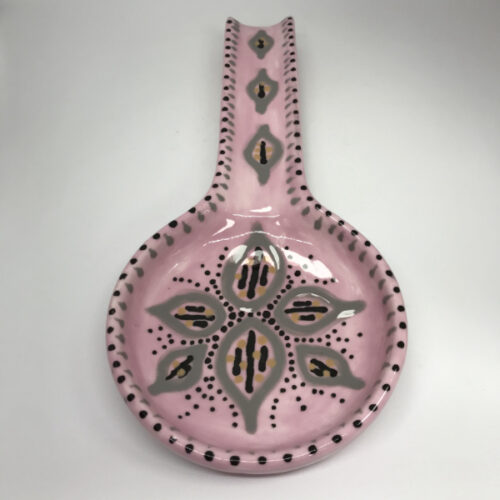 We like to be ready for all the important events in the yearly calendar and even though this year has had its challenges we are looking forward to seeing a raft of painted ceramic pumpkins being fired as you get ready for halloween. As we all know you can pop along to the budget chainstore and pick up halloween items for a few pounds but coming along to Razzle Dazzle Pots to design and decorate your own unique item is a special event all in its self. Added to having your pottery item you will also have a lasting memory of family time spent together creating it.
Varied selection of Halloween pottery
Some of the pottery in the studio is made on site by our own fair hands - so we do have a certain amount of control of things like the faces that can be cut in the small pumpkins and also the medium and extra large ones. If you click over to the video page take a look at the short film that we made last year you can get an idea of what we do with our pumpkins.
If you fancy having a personalised pumpkin made then give us a call or pop in and have a chat with us. We will see what we can do and let you know the additional cost. You do need to be organised on this one though so that we can get it made for you and leave you enough time to come in and paint it all in time for the actual day..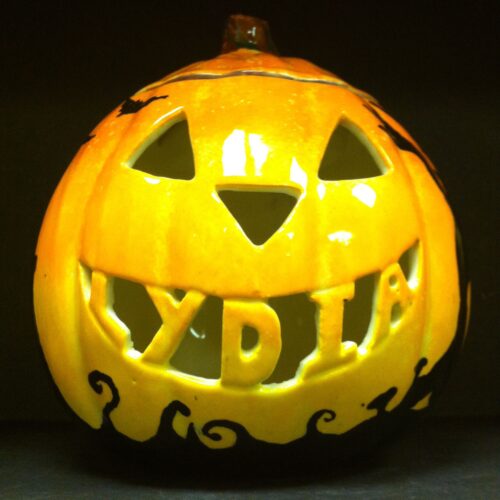 As well as the various sizes of pumpkins available we also have other small tea lights, in the shapes of bats, witches hats and skulls. You can also be creative and zombify regular creatures or figurines! I am sure there is someone out there who has a zombie princess on their shelf. There are no limitations when it comes to Paint Your Own pottery.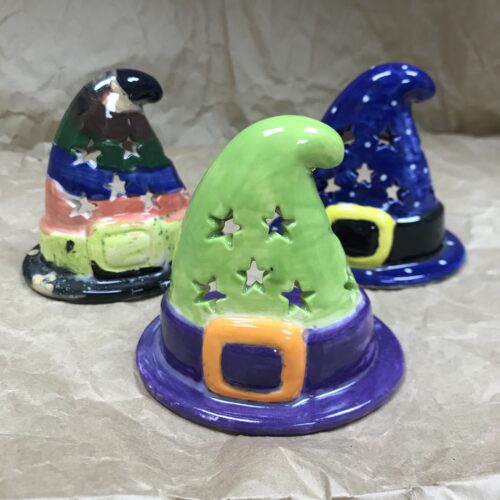 Did you go on a bear hunt during the Covid 19 lockdown? We had all the bear necessities with a great window display with over twenty different bears of all different sizes sitting in the window for all to spot. In this post we are showcasing just a few of the one that are in our £10 range of collectible bears.
Collect all the Bears
There are lots of bears to collect - start off with the numbers - perfect for celebrating a birthday or for a young one showcasing their paint talent at a specific age. There are a few professional guys too - a police bear, a fire fighter, a nurse, baker and bowler.
The calendar bears have a cute guy for any occasion, from halloween, graduation, first day at school to Christmas and summer holidays.
If you look closely - which maybe easier in the studio - there are a few of the characters from the 12 Days of Christmas. Sadly we don't currently have the full selection, only a partridge in a pear tree, two turtle doves, three French hens and 5 Gold rings however as we make them in the studio we do sometime make them with a metal loop so they can be hung from a Christmas Tree (it's never to early to mention Christmas!)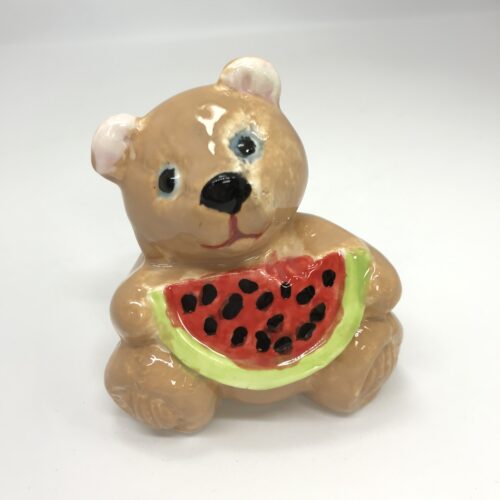 At the last count there are over 31 different collectible bears to paint. We will do our best to have them all in stock most of the time!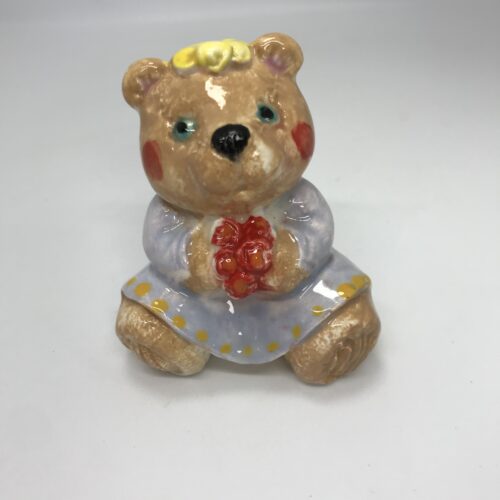 Of course we have plenty of larger bears too, look out for them in a future post or the next time that you are in the studio!
Are you a little artistically challenged or perhaps get stuck for ideas when faced with a blank piece of pottery? You are not alone, it is a common occurrence and we here at Razzle Dazzle have come up with a solution for you in the form of our Colour Me range.
What is Colour Me?
We have taken inspiration from the colouring craze that has been around now for a few years. If you take a little look at the picture you will see a selection of items that have black outlined images on them. We have drawn pictures with the black writer and then the pots have been fired in the kiln so that the lines won't rub off when you come to colour them in.
And that is it in a nutshell! Simple really.
You can also create these outlines yourself and if you take a look at our videos you will see some short tutorials on using the carbon paper and the writers.
At one time if we talked about keeping customers & staff safe we would immediately think about security measures and risk assessments for potential hazards. In this new world order of Covid 19, however, it means washing your hands and new buzz words like social distancing and one metre plus.
Things here at Razzle Dazzle Pots have changed a little bit and we feel that we are good to go, we have tried to keep the same friendly atmosphere and experience you all know and love but with just a few added cleaning procedures and the moving of furniture.
Procedures
1. As of the 24th July 2020 the Government has issued a directive that everyone should be wearing a face covering to help protect others and restrict the possible spread of the pesky virus we all have come to love and hate!! well more hate than love.. So wear your mask when you arrive, and once you are sat down you can take it off. Please restrict movement around the studio. We will stop this practice as soon as we are advised we can!
2. Every table now has hand sanitiser on it, so has the counter. Please use this or your own frequently when in the studio. Also follow the guidance on hand washing.
3. New usable spaces upstairs mean that customers can socially distance whilst enjoying the pottery painting experience.
4. On the tables is a reminder about our procedures - so stay seated as much as possible, avoid touching things unnecessarily and only one person approach the counter when coming to pay.
5. We have gone computerised - woo hoo! No more hunting around for your receipt when you come to collect. It will be in your email, or failing that we have your transaction on our computer. It is all password protected (twice!) and it is just for our use - it will not be shared with anyone else. If we get a report of someone being confirmed as Covid 19 positive then we are obliged to share the relevant peoples contact details with the NHS Track and Trace, but only for that day. If you do not want this to happen please let us know and we will make a note on your record.
6. Booking - to help again with limiting contact between customers please book your session with us - there are buttons on the website and Facebook to take you to the right page. You can also call us and book over the phone - 0115 905 6029. You can still come in on the off chance but we would prefer if you call ahead.
7. After you have gone we will sanitise the table and all the stuff you have used. We have to be honest it is starting to smell a bit of anti-bacterial spray in here!
To Mask or not To Mask...
Following on from the latest Government guidelines (23rd July 2020) on the wearing of facemarks we thought it prudent to let you know what is expected here at Razzle Dazzle Pots. First off we should say that if you want to wear a face mask all the time you are in the studio you can, no one will judge you!
1. If you are coming into the studio even if it is just to collect something or drop something off you need to have your mask on.
2. If you are coming into the studio to paint - whilst you are sitting at a table, not moving around and will be sat painting or drinking something tasty from our menu then you do not need to wear your mask.
3. When leaving the table or when approaching the counter - we ask that it is only one person at a time and that they wear their mask.
4. Under 11's do not need to wear a face mask.
5. If you want to sit separate from other people you can - just let us know when booking and you can have a table upstairs away from people coming in and out of the studio.
Thank you for your understanding and hopefully this won't last long.
Please use our new booking system to reserve your table, it is there to help us stagger arrival times and try to maintain some semblance of social distancing 1+.