We like to be ready for all the important events in the yearly calendar and even though this year has had its challenges we are looking forward to seeing a raft of painted ceramic pumpkins being fired as you get ready for halloween. As we all know you can pop along to the budget chainstore and pick up halloween items for a few pounds but coming along to Razzle Dazzle Pots to design and decorate your own unique item is a special event all in its self. Added to having your pottery item you will also have a lasting memory of family time spent together creating it.
Varied selection of Halloween pottery
Some of the pottery in the studio is made on site by our own fair hands - so we do have a certain amount of control of things like the faces that can be cut in the small pumpkins and also the medium and extra large ones. If you click over to the video page take a look at the short film that we made last year you can get an idea of what we do with our pumpkins.
If you fancy having a personalised pumpkin made then give us a call or pop in and have a chat with us. We will see what we can do and let you know the additional cost. You do need to be organised on this one though so that we can get it made for you and leave you enough time to come in and paint it all in time for the actual day..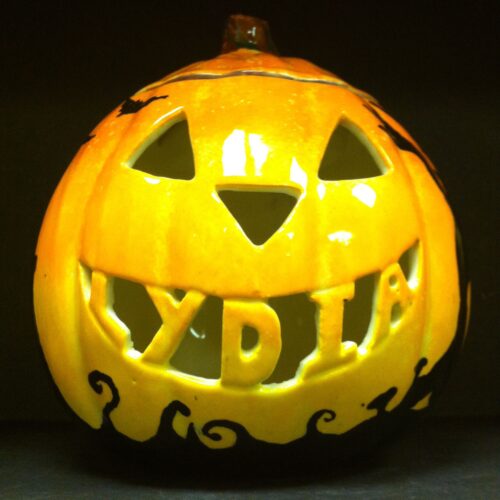 As well as the various sizes of pumpkins available we also have other small tea lights, in the shapes of bats, witches hats and skulls. You can also be creative and zombify regular creatures or figurines! I am sure there is someone out there who has a zombie princess on their shelf. There are no limitations when it comes to Paint Your Own pottery.