If you are getting confused by all the changes then you are not alone. Literally everyday we have some fresh Covid News and have to re-think all the plans that were made the day before. If nothing else our brains are being challenged daily to come up with new ways of operating our tiny business.
New Covid News!
We had planned to just operate on a take away basis during December. A phone call yesterday from Gedling Borough Council advising us that we are actually allowed to OPEN for customers in the studio! Well that was a surprise, especially after spending several days re-arranging the studio to look like a shop and changing the booking system to allow for take away browsing.
So in case you missed that I will say again - We are allowed to open, open for painters in the studio!!
The provisos are:
We must maintain the Covid 19 procedure to ensure a safe environment
We are not able to sell any food or drink.
Customers must also wear face masks the whole time in the studio.
Only one family group per table/booking - no mixing
Customers must stay seated and rely on table service.
Maintain social distancing.
The booking system will be back open today for you to book your sessions. At the moment we are remaining closed on Sunday - however if the tables get all booked up for Saturdays we may review the situation.
One to one bookings for baby prints will also stay. This will help us to give sufficient attention to each customer.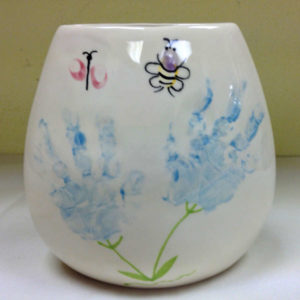 Take Away kits will also stay. You are very welcome to order a take away kit and paint at home.
One final word - Me Time is back on! Only 6 tables though and they are all upstairs so if you want to come book now.